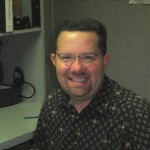 Jason Bennert – Reporter
Jason Bennert was born at Good Samaritan Hospital and spent his childhood watching the orchards of the Valley of Heart's Delight being uprooted to make way for the subdivisions and office parks of Silicon Valley.
Before coming to 1590 KLIV, Jason worked for Bay City News as the South Bay Bureau Chief for the last ten years.
As a journalist, he has stood on the tarmac at SFO and Moffett Field and watched two Presidents board Air Force One, stood in numerous South Bay parking lots and watched three governors drive off in black limos and given South Bay traffic tips to celebrity attorney Mark Geragos during the Scott Peterson murder trial.
He walks from his home to Santana Row almost every weekend accompanied by his wife and occasionally by his faithful sidekick Arco, a Boston Terrier.
To contact Jason, e-mail jbennert@empirebroadcasting.com