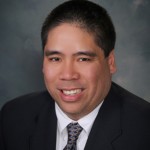 Derrick Villa is a familiar presence to most listeners of 1590 KLIV.
Besides serving on KLIV's reporting staff, Derrick is the All-Night Voice of 1590 KLIV, a familiar friend to people who are up early (or out late) in Silicon Valley. Derrick keeps our early-morning listeners up-to-date on overnight road construction, and any late-breaking news in the wee small hours. He's been with 1590 KLIV since 1993.
Derrick's ties to the community run deep. Derrick graduated from San Jose State University with a degree in Radio-Television where he also studied Journalism and Political Science.
An avid sports fan, Derrick has strong ties to san Jose State's athletics department where he works as a public address announcer for Spartan Women's Gymnastics and Softball and statistician for men's and women's basketball.
Next time you're out late in Silicon Valley tune in and listen to the friendly voice of this local broadcaster who makes sure 1590 KLIV's listener's are kept up-to-date 24 hours a day!